September 2002 Featured items
(click on image to enlarge, click on speaker to hear sound sample made from that record)
1 Arthur Alexander "You Better Move On" on Dot 16309

ID # 4906 VG+ $ 20.00
Here's an often overlooked, highly underrated masterpiece from 1962. I remember being the only one I knew who liked this song back then and I did buy a copy but it got lost along with several hundred other records that I bought as a teenager in the 60's. I finally managed to find two copies in decent shape - so I now have it in my personal collection again and this one is for sale. Slightly off-beat, beautiful R&B from the early 60's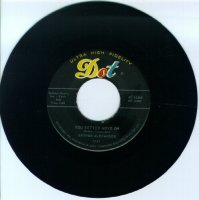 ***** ***** *****
2 The Majestics: "Strange World" on Linda 111

ID # 11878 EX $95.00
I can't honestly say that I remember this one from back in 1963, don't know if it even charted.. I'm not even sure how to classify it - R&B? Doo-Wop? Soul? But I do know that it is rare and beautiful. If you never heard it either click on the speaker icon for about 30 seconds worth of pure pleasure.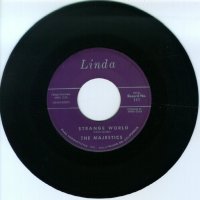 ***** ***** *****
3 The Hippies: "Memory Lane" on Parkway 863

ID # 4510 VG++ $ 18.00 *SOLD*
The Hippies, aka The Tams, aka The Stereos - this group had more names than they did hit records. This group as the Stereos first released "Memory Lane" in 1959 on the Mink label, reissued it again on the Mink label later in 1959 as the Tams. A few years later, in 1963 it was issued again by the Tams on the Parkway label , and yet again in 1963 as the Hippies. It was a fairly successful local hit in the Philadelphia area but only made it to position 63 on the national charts. It is one of my all time favorites and brings back a lot of fond memories. Here's to 1963, thanks for the memories Ginger.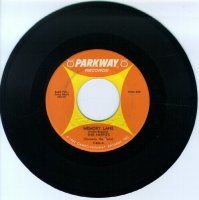 ***** ***** *****
4 The Magnificent Four -"The Closer You Are" on Blast 210

ID # 10806 EX+ $37.50
The Magnificent Four do a magnificent job with their 1963 re-make in their own style of the classic doo-wop "The Closer You Are". This is an upbeat fast version that rarely gets played on the major oldies stations. It's not extremely rare, but neither is it common - unusual to find in this great condition since Blast is one of those painted on labels that are subject to rapid wear and fading.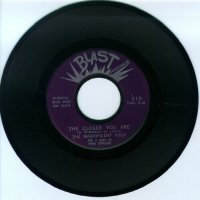 ***** ***** *****
5 The Channels: "The Closer You Are" on Whirlin Disc 1035

ID # 286 VG $9.50 *SOLD*
The Channels - here's the original version written by Earl Lewis, lead singer for the Channels. This is done in the traditional street corner harmony style. The original first issue was on Whirlin' Disc 100 in 1956, this copy is a later (early 60's) reissue on Whirlin' Disc 1035, not nearly as rare or valuable. It was also released in 1959 on the Port label (#70014). I do have copies of that label available also.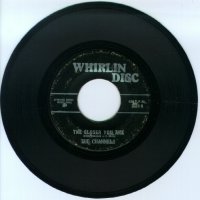 ***** ***** *****
6 The Fiestas: "So Fine" on Old Town 1062

ID # 10837 NM $22.50
This record is "So Fine" by The Fiestas - a big hit back in 1958 when I was just starting to pay attention to music. I often get it confused with "You're So Fine" by The Falcons so I thought I would feature both of them here this month. A great example of late 50's group harmony, here's a chance to add a NM copy to your collection.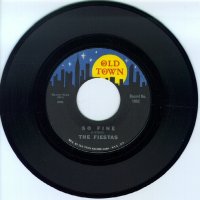 ***** ***** *****
7 The Falcons: "You're So Fine" on Unart 2013

ID # 4801 VG $17.50
The Falcons with another 'fine' record from the late 50's. This copy is starting to show its age a little, but it still looks pretty good and has lots of play left in those old grooves.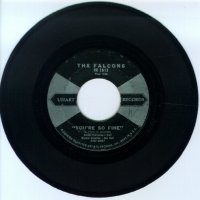 8 The Volumes: "The Bell"

b/w "Come Back Into My Heart"

on Chex 1005
ID # 12391 VG+ $22.50
The Volumes - one of my favorite groups. Here one of their records that has two great sides. "The Bell" a soft, slow sweet ballad backed with "Come Back Into My Heart", a rockin' doo-wop. Listen to them both and enjoy.
***** ***** *****
9 The Volumes: "Sandra"

b/w " "Teenage Paradise"

on Jubilee 5446
ID # 12390 VG+ $50.00
The Volumes again - seems like almost everything they do is great on both sides. I don't think this one made it to the 'top 40' charts, and it certainly doesn't get much air play these days. Here is your chance to own this fine rare White Label Promo copy.
***** ***** *****
I will be adding more pages like this as time permits, I would like to have a new one each month, but it is very time consuming.